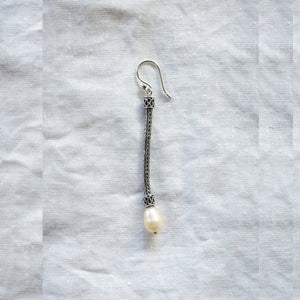 Tulang Naga Pearl Drop Earring
Sale price Price $300.00 Regular price Unit price / per
A simple and elegant earring incorporating the symbols of the ocean pearl, tulang naga or dragon bone chain, and the undulating root symbol. Together, this earring evokes the grounded strength and protection of the dragon who guards the land, and the seas. Earrings are sold individually and not by pair.
100% Recycled 925 Silver

100% hand woven silver chain

100% South Sea Pearl

Handmade by expert silversmiths in Bali 

Chain length: 4.5cm

Weight: 3 grams
This piece is made to order and will be ready to ship within 60 days of the order date. Limited stock may be available for immediate shipment.